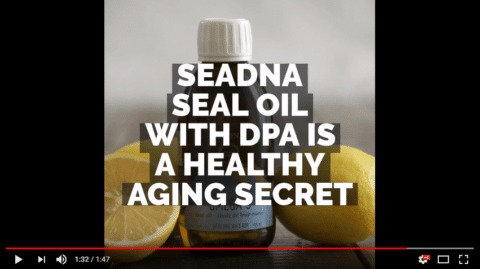 As we get older we know we need to take better care of ourselves. A big part of this self-care can be Omega-3 supplementation. The benefits of increasing the level of Omega-3 in our bodies are wide-ranging. From heart health to arthritis to brain and cognitive functions an Omega-3 can help with each of these aspects of our health.
Most Canadians currently choose fish oil for their Omega-3 needs. It delivers EPA and DHA: two key fatty acids that do wonders in the body. However, SeaDNA Seal Oil doesn't just have EPA and DHA, it has the added power of DPA.
DPA is a super-hero of an Omega-3 that fish oil supplements do not have in high quantities. It is the natural presence of DPA in balanced quantities with EPA and DHA that makes SeaDNA Seal Oil the most complete, and perhaps, most effective Omega-3 on the market.
Here are four key reasons that seniors should look at choosing SeaDNA Seal Oil with the power of DPA:
1. HEART HEALTH
One of the biggest issues with our heart as we get older is the risk of blood clots and blockages. Science has shown that DPA is more efficient than either EPA or DHA at helping clear out these critical passages and eliminating risk factors for heart disease (1). This suggests that SeaDNA Seal Oil with DPA may be your best Omega-3 choice to keep that heart as healthy as possible. Seal Oil is also naturally high in "good cholesterol" which means it can help that fight as well.
2. BRAIN HEALTH
Science has taken a look at how DPA helps out the brain and it has found two key areas that many seniors should be interested in. According to research, DPA positively impacts loss of spatial learning and long-term potentiation. In basic terms, science has shown that Seal Oil will help with our memory and also our cognitive skills (2).
3. THE ARTHRITIS BATTLE
To help relieve arthritis pain it is important that we reduce inflammation. Seal Oil is remarkably good at this. And again, this is in large part thanks to DPA. Science has shown that it takes just one-tenth as much DPA to do the same work as EPA in promoting healthy blood vessels that reduce inflammation. This means that SeaDNA Seal Oil with DPA is more efficient at relieving arthritis symptoms than other Omega-3's without it. (3)
4. FIGHT NERVE DAMAGE
One of the more remarkable studies on Seal Oil was done here in Canada and found that Seal Oil with DPA didn't only fight nerve degeneration, it helped reverse it. After one year of Seal Oil supplementation it was discovered that, on average, patients saw an increase of 29% in the length of corneal nerves. This incredible result is believed to be good representation of the healing power of Seal Oil throughout nerve systems in the body (5).  
For Canadian seniors these four areas are all big reasons that an Omega-3 supplement is chosen. We believe that SeaDNA Omega-3 Seal Oil is your best choice to help with each.
Along with the presence of DPA, SeaDNA Seal Oil is also more efficient and more easily digested than alternatives. The fact the seal is a mammal also means our bodies naturally integrate the Omega-3 content faster. We also handle the familiar mammal cellular make-up of seal oil very well, meaning no reflux or annoying disgusting burps. SeaDNA Seal Oil is also 100% Canadian from front to back and is of the highest quality.
The Canadian seal harvest is sustainable, quota-based, responsible and strictly monitored by the Department of Fisheries and Oceans. With an estimated population of at least 7.5 million the North Atlantic harp seal herd is incredibly abundant and at no risk. All SeaDNA products are produced in facilities approved by the Canadian Food Inspection Agency. SeaDNA's line of Omega-3 products have all been certified as Natural Products by Health Canada.
To order: boutique,seadna.ca/catalog
For more information: seadna.ca or sales@seadna.ca
###
SOURCES: 
1 / Kaur G, et al. Docosapentaenoic acid (22: 5n-3): a review of its biological effects, 2011. 
2 / Kelly, et al. The polyunsaturated fatty acids, EPA and DPA exert a protective effect in the hippocampus of the aged rat. PubMed, 2011. 
3 / Toshie Kanayasu-Toyoda, et al. Docosapentaenoic acid (22: 5, n-3), an elongation metabolite of eicosapentaenoic acid (20: 5, n-3), is a potent stimulator of endothelial cell migration in vitro pretreatment, 1996. 
4 / Neil J. Mann, et al. Effects of seal oil and plasma on platelet parameters and plasma lipid levels in healthy subjects, epub, 2010. 
5 / Evan J. H. Lewis, Bruce A. Perkins, Leif E. Lovblom, Richard P. Bazinet, Thomas M. S. Wolever, Vera Bril. Effect of omega-3 supplementation on neuropathy in type 1 diabetes. Neurology, 2017; 88 (24): 2294 DOI: